{category.name}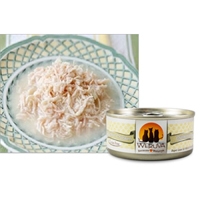 UPC: 878408000317
Manufacturer: Weruva for Cats
Give me an order of chicken breast, hold the grains. In fact, hold everything. And while you're at it, make it antibiotic free, hormone free and free range. Lick those paws clean with our boneless, skinless, white breast meat chicken in a sumptuous gravy . . . for the finickiest of felines! (GRAIN FREE)
Manufacturer: Weruva for Cats
Big Redeye is the unique ingredient here, sitting atop sardine cutlets and whole meat tuna. Fit for their carnivorous and nocturnal lifestyles, as you could guess, "bigeye" refers to this fish's unusually large eyes. Native to the tropical and subtropical regions of Pacific and Indian Oceans, Bigeyes tend to live near rock outcroppings or reefs. Available in 3.0, 5.5, and 10 oz. can.
Manufacturer: Weruva for Cats
Mack & Jack, you Omega-3 maniac! Made with mackerel and skipjack tuna. With the United States consuming nearly a third of the world's catch, simply put, skipjack is the most popularly consumed tuna in the world, surpassing albacore nearly eight times over. Available in 3.0, 5.5, and 10 oz. can.
The wait is over! The Pet Depot Happy Hour Special is officially back! Reserve a time Monday-Thursday from 11-2 and receive 50% OFF your pups swim.
Offered By: Pet Depot
About us
Pet Depot is your home for premium pet supplies in Baltimore, as well as quality pet care services. Our pet supply store is just minutes from the Baltimore Beltway and I-83 in Timonium and features a full service retail store, a state of the art hydrotherapy pool, an award winning on-site obedience training center, nine self service dog grooming stations and more.